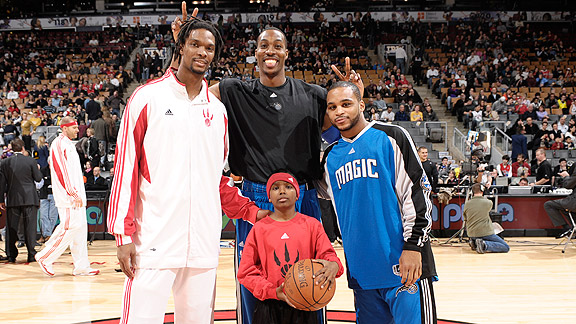 Just like any other blog on the internet, we at The Puns... read other blogs, and are excited to find out that other bloggers are reading ours. So naturally, we jumped at the opportunity to do a little Q&A exchange with Hoops Head North, a great Raptors blog. While our answers to their questions are already online(located here), we were happy when they agreed to answer a few of our questions regarding their team and about tonight's matchup between
the Magic and Raptors.

1.What happened to Toronto? [Jackie Moon & Paul Ego]

You tell me. Everyone and their grandmother projected this team to be a 40-50W team that would put up a fight in the second round of this year's playoffs. Bryan Colangelo had hyped this team up to be the best Raptors roster on paper. But this season has become far from that, as it has turned into one big season of disappointment, disarray and confusion. You have the Jermaine O'Neal trade that didn't work out, you have the coaching change, you have the inconsistent guard play and then you have a team of talented players playing without confidence.

Firstly, the Jermaine O'Neal trade was a dud. Bryan Colangelo has been widely criticized on how that trade panned out, and in an effort to correct his mistakes, Colangelo traded for Shawn Marion but it happened just a little too late. Either way, although Marion hasn't been as good as expected, he did help fill a void of a good defensive swing man who could score. Guys like Jason Kapono, Jamario Moon, Anthony Parker and Joey Graham have been so inconsistent this season and the inconsistency of the swingmen had caused a lot of issues before Marion's arrival. There was a lot of tinkering with the lineup and the Raps struggled to find the right mix. And it was a domino effect, as the Raps struggled to find the combo that worked (along with injuries), the losses piled up, and as the losses piled up, the Raptors just lost their confidence and it snowballed. The Raps became famous for blowing leads, they would go on streaks, win 2 games but then drop 7 and could never get any momentum going…….until now. Just 70 games too late.

2. Next summer. Bosh is set to leave, he tells them, I want to go to Orlando, but I don't want to leave you guys with nothing in return. Make a sign and trade happen. What does Toronto ask for? Or at the trade deadline.

I'm horrible at these trade scenarios, let's say Rashard Lewis? Oh......and the Polish Hammer, gotta have the Polish Hammer or no trade. I still wouldn't be a fan of this though as I'd want a franchise player in Toronto. But if we had to, I'd say Rashard and the Polish Hammer. The Polish Hammer would be a hit in Toronto. I don't even really know who the Polish Hammer is but he's got one cool-*** nickname. I'll throw in Patrick O'Bryant as well.

3. Who is your coach next season...My guess is Marc Iavaroni. [Maxwell Effort]

Iavaroni has definitely hanging around the Raptors lately as a "consultant" but I believe you'll see him on the bench either as the head coach or one of the assistants next season. The rumblings around the Raps nation is that Jay Triano may still be the coach next year with stronger assistant coaches. I like Triano (especially because he's Canadian) but I've got mixed feelings about having him as head coach next season.

4. What do Raptors fans think when they see Dwight Howard coming up on the schedule? [Jareth Cutestory]

For me, I get scared. Big men like Shaq, Yao, Dwight Howard can do serious damage on the Raps. I will never forget that game against the Suns, it was like King Kong going up against a bunch of curly straws. It really exposed how thin we were upfront, Shaq dropped 45 points on the Raps and the Suns scored 90 points in the paint. But I think the Raps know how to play the Magic this time around, they know the Magic like to shoot the ball so the key is stopping Dwight Howard from getting those offensive boards. We've got a little more size now too, we've added Patrick O'Bryant but we've also got an impressive former D-Leaguer in Pops Mensah-Bonsu, who likes to crash the boards, and has been compared to the likings of a Junkyard Dog or Charles Oakley type of player.

5. Is Rashard overpaid? or has he been the guy that put us over the top by learning a new position and being a nightmare on offense against traditional 4's? [El Fantasma]

Rashard Lewis's game is similar to Andrea Bargnani in the sense he's not one of your traditional big men. He can shoot the three and stretch the defense but can also take it to the hole. Overpaid? Probably. But the Magic are one of the best teams in the L, and Rashard Lewis is a big part of the reason why.

Prediction: Who ya got tonight?

Something's just clicked for the Raptors lately. They're too far from the playoffs and they're too far from that top lottery pick, I say they screw their season even more and beat the Magic. It'll be close, I say like a five point game but they'll win.

Best of thanks to Hoops Head North for giving us their time and answers. We're looking forward to tonight's game, just as we're sure that they are as well.



Credit: ESPN.com for the photo